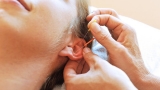 Here are just a few examples as well as indications that make the range of possible uses clear:

Arthrosis

high blood pressure

Ulcerative colitis (inflammation of the bowel)

Diarrhea, irritable bowel syndrome

Fatty liver

Lipid metabolism disorders

gout

Glomerulonephritis (non-bacterial inflammation of the kidneys)

Hemorrhoids

Urinary tract infections

Heart problems, functional (without organic cause)

Heart failure

Lumbago

Headache

Contact eczema, neurodermatitis

Inflammation of the gastric mucosa

migraine

Neuropathies (nerve disease)

Prostatic hyperplasia (benign enlargement of the prostate gland)

Hyperthyroidism and hypothyroidism

Painful conditions

Shoulder arm syndrome

psoriasis

Sexual disorders

Tinnitus

constipation

Menopausal symptoms.

Costs

The costs depends on the time required.

We look forward to providing you with comprehensive information and advice. Just contact us!