In 2002 Dr . Dipl. Med. Olga Schwandt runs the general practitioner clinic of Dr. Ledwon. In April 2009, Dr. Schuster expanded the clinic and went into a well-deserved retirement in March 2019. Ms. Tappert is now employed as a specialist in our practice.
Our practice focuses on primary care, prevention, individual health services (IGel) and structured treatment programs such as DMP diabetes as well as training for diabetic patients, DMP CHD and COPD.The clinic is primarily an appointment clinic but also allows an acute consultation at specified times. The two doctors work alternately and represent each other during vacation times. All medical assistants are deployed in all areas and, like the doctors, are constantly training to be up to date with the current state of medicine and technology. All patients receive our care according to their needs and medical-ethical principles. We make every effort to ensure that the patients feel accepted, taken seriously and understood in the practice. Every employee is committed to our quality goals and has the task of contributing to their realization.
I have been living in Germany for more than twenty years and i was born in the Soviet Union, in the Altaisk region.

I received my training there, in the GDR and in Norway. First I started my studies in the Soviet Union then at the Berlin CharitĂŠ where I finished my medical studies with the state exam.

I completed my internship as a doctor in Berlin, in the Sankt-Joseph-Krankenhaus in the department for anesthesia and intensive care medicine as well as in a hospital in KĂśpenick and in a hospital in Beeskow in the department of internal medicine.

The training during my internship took place in KĂśpenick and in Rorvik in central Norway.

There I worked as an assistant doctor and later as a specialist for 4.5 years, largely independently in a communal practice in Rorvik in the countryside. The range of treatment here was very wide because the nearest hospital with specialists was about 100 km away.

I also worked as a general practitioner and company doctor in Oslo.

I have been running the general practice in Eggersdorf for 10 years now. At the moment, around 1200 patients visit our practice every quarter, in the last 10 years around 6500 patients have trusted us with around 35,000 contacts.

My team and I will continue to strive to be a good partner for you when it comes to questions about your general well-being and solving health problems.


Clinic manager / nurse
(German and Russian speaking)

Family doctor diabetes manager 04/18

Diabetes treatment / patient discontinuation of insulin

Wound management

Nursing Advisor

Qualification z. : Diabetes specialist (insulin and non-insulin compulsory. Diabetics) in Berlin 06/2006

Travel advice / vaccination advice in practice 2019


My name is Nina Rohr and I've lived in Strausberg since1999. I completed my training in my home country Russia in 1992. I worked there as a nurse until 1999. After moving here, I worked for "Bendel" home nursing from 2000-2010. In this long time I have learned a lot and trained myself a lot. I got to know a lot of people and their suffering and so I can deal with it better in my everyday life and work. I've been working here for Dr. Schwandt since October 2010.

I really enjoy working here and enjoy being here every day. The nice colleagues make your day-to-day work much, much easier.
We look forward to welcoming you and helping you with your health problems.



My name is Mandy Wilcke and I've been working since February 2021 in Schwandt practice active. I have lived in the Oderbruch since I was a child. I completed my training in 1996 at the Berlin-Buch Clinic. I then worked as a health nurse at the Wriezen hospital for 24 years. There I was able to gain professional experience at the various stations and acquired extensive knowledge. I am not unfamiliar with dealing competently with people in their various situations. I am always happy when I can help people with their health problems every day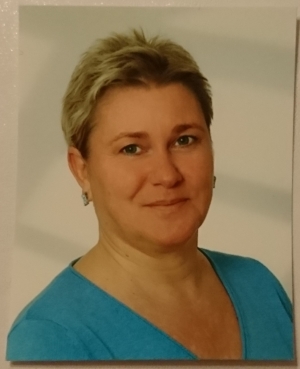 trainee

My name is Tita Permaisari and I come from Indonesia. I have been living in Germany since May 2018. Last year I learned German and was able to reach level B2. In my home country, I successfully completed my bachelor's degree in communication sciences, where I gained professional experience in administration, finance and accounting. In May 2020 I got the good chance to do an internship at the Schwandt practice. In August 2020 I will begin my training as a medical assistant, which I am incredibly pleased for receiving these opportunity in the Schwandt practice. I also get a lot of support from the practice team, which helps me at any time.